If you're considering bonded T1s, metro Ethernet, Ethernet over copper, fractional or full DS3s or fiber Internet circuits, we have another broadband option, Wireless Broadband.  Engineered for mission critical business applications such as cloud computing, streaming media and Voice over IP (VoIP), Wireless Broadband boasts fast symmetrical speeds, scalable to GigE.  It outpaces most business broadband services in performance and agility, and it is the fastest and easiest business-grade service to install.
SelectNet Internet Services has teamed with Skyriver Communication's Wireless service to offer reliable, cost effective, carrier grade high-speed Internet access – the perfect alternative or supplement to traditional landline access such as T1s, DSL or Cable. Delivered in just 3 business days, wireless broadband service is available in a variety of connection speeds from 512 Kbps to 3.0 Mbps.
Base stations located at several high vantage points throughout its service areas. The Skyriver base stations communicate with the antenna and equipment installed at the customer location to provide high-speed wireless broadband Internet access.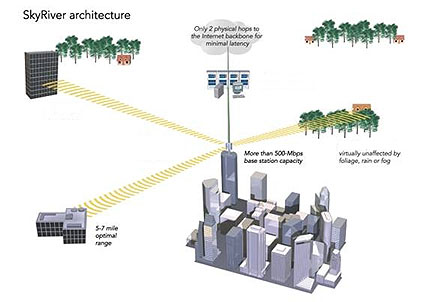 Symmetrical bandwidth, always open, dedicated connection
Multiple computers can be connected to the service
San Diego, Ventura, and Inland Empire Coverage Areas
Optional dynamically assigned IP addresses with managed service
Security
Carrier Grade Network
24/7 Network Operation Center
Form goes here…
…and here…
…and some more here!